What is the difference between padded bras and non-padded bras? Why do women prefer one over the other?
Finding the right bra for the right occasion is a never-ending quest. But there are two main types of bras: padded and unpadded. When we choose to buy bras, you may be confused about which one to choose and what are their benefits. Are unpadded bras better? I have written this article with 10 years of selling bra experience, and I hope this article will give you a clear understanding of padded bras and unpadded bras.
Padded vs Non-padded Bras: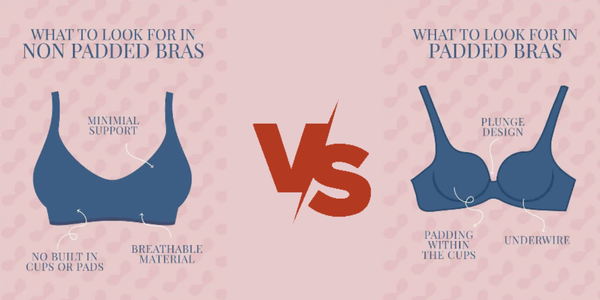 There are several differences between padded and unpadded bras. Anyone can wear these two types of bras depending on the occasion and type of dress they wear. But how to differentiate between these two types of bras for the right occasion is what matters. 
Padded Bra Meaning: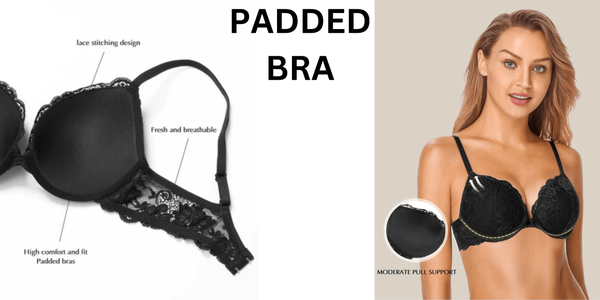 As the name implies, Padded Bra For Women are designed with pads on both sides in order to provide more support and enhancement to your breasts. It is specially made to add volume to your breasts, allowing them to look bigger in size.
Benefits of Padded Bra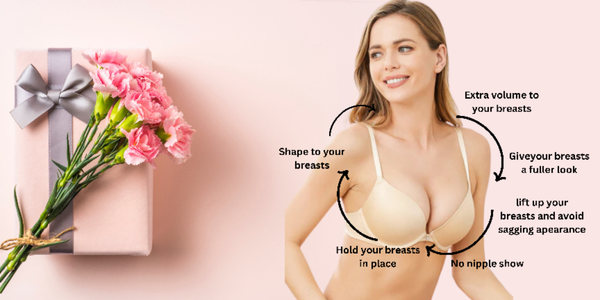 1.If you have smaller breasts, then padded bras are perfect. They give extra volume to your breasts so that you can flaunt your curves effortlessly.
2.  Padded push up bras can give a shape to your breasts. All women do not have rounded breasts. Padded bras give a more natural look providing the perfect shape.
3. Pads in bras give your breasts a fuller look. It provides perfect figures to enhance your features. 
4. Saggy breasts might make you look old. Padded bras lift saggy breasts and give a younger look.
5. Another major benefit of a padded bra is that it holds your breasts in place. Especially during workout sessions, it helps avoid the movement of breasts.
6. Visible nipples might be due to thin bras. The pads are usually made of thick fabric for a fuller look, so you need not worry about visible nipples through your dress.
7. Padded bras come in different sizes, colors, styles, and patterns. Hence, you can pick the right one that goes with your dress.
Non-padded Bra Meaning:
What are bras without padding called?Non-padded Bras. As the name suggests, these are basically bras with no pads attached. They are designed to provide support for your breasts. If you simply want a bra to provide support and comfort to your breasts, you can opt for non-padded bras. 
Benefits of Non-padded Bras:   
If you want to show off the natural shape of your breasts, wireless non-padded bras are the best option. They do not have any type of padding, so your natural breast shape is maintained.
Padded bras can be uncomfortable due to the pads, but non-padded bras are just fabric and make you feel secure and comfortable.
They are easier to wear and go with any dress effortlessly.
There are several different types and styles of non-padded bras available. Hence, you can pick the right style according to your needs.
They are perfect for everyday use as they are very comfortable.
Non-padded bras are light since there are no heavy pads attached.
Non-padded bras can wick away the moisture and dry off easily. Hence, you can prevent skin infections and allergies.
Unlike padded bras, they are not too tight and can only give minimal support to your breasts. 
Which bra is good: padded or non-padded?
Both types of bras have their own advantages and disadvantages. If you want to add volume to your breasts, go for padded bras; if you want to maintain the natural shape of your breasts, opt for non-padded bras. It is advised to have a pair of padded and non-padded bras in their lingerie wardrobe in order to use them according to the occasion.
In normal times, I suggest that the best choice is best non padded bras. More conducive to our skin and body stretching.